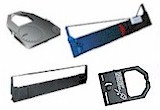 Locate Printer Ribbons The Easy Way

Shop conveniently, securely and enjoyably at Printer-Cartridges.com, the internet's top source for Printer Ribbons and Printer Cartridges.
| | | | |
| --- | --- | --- | --- |
| Find Your Printer Ribbon: | | ~ OR ~ | |
---
Trying to find the right printer ribbons to fit a specific make and model can be like looking in a haystack for a needle. While it's true you can probably find the ink refill models you need from the manufacturer, you are going to pay for the privilege.

There's got to be a better way, right?

Fortunately, there is. It doesn't matter whether you need printer ribbons, printer cartridges or even bulk toner, we're here to help. At Printer-Cartridges.com, we're in business to help make it easier and more affordable for you to find what you need for your cartridge inkjet printer, cartridge laser printer or even your ribbon-operated machine.

Printer-Cartridges.com has been in business since 2002. Since then, we have become one of the largest distributors of printer ink cartridges, printer ribbons and other related supplies on the entire Internet. We have earned our reputation by understanding just how important having the right supplies at the right prices happens to be to our customers. To this end, we make sure to ship fast and keep the costs associated with purchasing a printer cartridge, toner refill and more as lows as possible.

When you need printer ribbons, you'll find we're the best place to turn for professional assistance because we:

1) Have a selection that is amazing - We make sure to have printer ribbons in stock for an amazing selection of machines. From ribbons for Adler-Royal, Admate and Brother printers to Sharp, Toshiba and Xerox, we have them all.

2) Our fast, convenient, free shipping - Whether you're looking for printer ribbons, bulk toner or printer ink cartridges, we ship 99 percent of our orders on the very same business day we receive them. We do this because we understand just how important it is for you to have your business machines functioning at their peak. To keep your costs low, we also offer free shipping on all orders of $45 or more. For those who have order prices that are less, our flat fee shipping is highly affordable

3) Our commitment to your satisfaction - We want every customer of Printer-Cartridges.com to walk away fully satisfied. This is simply because we want you to keep coming back every time you need a printer cartridge, toner refill or printer ribbons. To make sure you are completely satisfied with your order, we offer the best guarantee in the industry. Our policy is to provide a one-year satisfaction guarantee. If you're not happy, we aren't either. It's that simple!

4) Our dedication to keeping your experience safe - We want you to enjoy shopping online for ink refill kits, printer ribbons and more. That's why our online store is secured by McAfee. To make your experience even more hassle-free, we also accept a wide variety of online payments. We'll even accept a mailed-in check if you prefer.

If it's time to order printer ribbons, we're the place to turn. You don't have to search for a needle in a haystack or pay too much. At Printer-Cartridges.com, we have the laser printer cartridge models, ribbons and more that you need for less than you'll pay elsewhere. Plus, we make ordering and shipping easy and affordable.


Complete Printer Ribbon Listing: